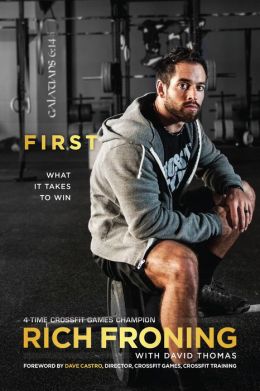 As someone who loves fitness, I am also a strong supporter of CrossFit. I have nothing but respect for individuals who continuously challenge not only their physical capabilities, but also their mental capacities as well. It is no easy feat completing one CrossFit Workout of the Day (WOD), much less competing in and winning the Crossfit Games. That admiration is only one of the reasons why I look up to the many Crossfit athletes, and in particular, Rich Froning Jr. Rich began as a CrossFit unknown who did not even imagine making it past the first day of the CrossFit Sectionals in 2010. But by the end of it all, he was runner-up to the 2010 Fittest Man on Earth, Graham Holmberg. And from then on, he only went up.
But much like many other fans, I only knew Rich Froning as the "CrossFitter." As the dark horse turned number one target. As the two-time Fittest Man on Earth. So when he released his autobiography titled
First: What It Takes to Win
on June 21st, 2013, it only took me a couples days before I downloaded the e-book version onto my Kobo. And after taking only another couple days to finish reading it, I can say that I admire Rich for more than being an extremely talented athlete. I admire him for his hard work, his ambition, his drive, and his passion to serve the Lord. I am not a religious person, but I do believe in Rich's message that there is more to life than serving yourself. And there is more to Rich Froning Jr. than the title of the Fittest Man on Earth.
To keep from spoiling the book, I'll keep the summary brief. It began with a foreword written by Dave Castro, Co-Director of CrossFit, and soon launched into the story that changed the life of Rich Froning. If you want to know what that is, you better read the book!
Following that, Rich organized his book in a fairly chronological way.
First
included narratives about how his childhood, and his family has contributed to who he is today. It was nice that Rich was not afraid to invite the reader into reliving the personal struggles that he faced. There was also in-depth retelling of his journey that eventually led to competing in three CrossFit Games, and the recollection of each stage of the competitions. Although Rich did a great job in defining CrossFit terms, I felt that an average gym-goer, or someone unfamiliar with these movements would not have truly understood the tenacity of those workouts.
In addition to insight into "Rich the CrossFitter", he also explained his journey to spirituality. Often when authors discuss religion, it comes off as being too "preachy." But that was not the case here. Instead, it felt more like Rich was merely talking about what he believed in, and why.
The latter sections of the book talked a bit about his gym, CrossFit Mayhem, and his workout "routine," and diet. And to cap it all off,
First
was sealed with pictures and some other CrossFit related information regarding definitions and classic workouts.
Overall, it was an interesting and fairly easy read. As someone who has watched many interviews of Froning, it comes as no surprise that Rich Froning is a genuine guy who worked his ass off to get to where he is today. Much like other athletes, he is competitive, but at the same time he is also humble about his success.
To those interested, Rich has once again captured a spot to compete in the 2013 CrossFit Games. This year's games are held from July 22-28, so don't forget to tune in! There's nothing more motivating than watching amazing individuals give it their all in each and every workout.
I'll leave you with a quote from Chapter 21 (page 7 of 14):
"Every day begins with the potential of learning something new about myself-- that ability to say, 'You mean I could have been doing this the whole time?'"
Until next time,
C